In the quest to renovate your kitchen, the kitchen backsplash is a crucial detail that shouldn't be overlooked. Serving both as a guardian against wall damage and as an element that adds character to your space, selecting the right backsplash can be a game-changer. With many options available, deciding the best one could be daunting. But worry not, we've got your back! This article unravels the best kitchen backsplash materials, aiding you in making an informed choice.
The Unwavering Charm of Ceramic and Porcelain Tile Backsplash
Ceramic and porcelain tiles stand as top contenders for a kitchen backsplash, and rightfully so. These materials offer a union of durability, water resistance, and easy maintenance, making cleaning spills a breeze. HGTV illustrates how they come in various styles, colors, and designs, allowing you to customize your backsplash in harmony with your kitchen's aesthetic. Even for those on a budget, ceramic tiles offer an affordable solution without compromising on quality or style.
Illuminate Your Kitchen with a Glass Tile Backsplash
Introducing a touch of sophistication and modernity to your kitchen, glass tiles stand as an elegant option. Their sleek design can instantly breathe life into your backsplash. Glass tiles, being nonporous, stand resistant to stains and don't require sealing. Architectural Digest mentions how they reflect light, casting a bright and spacious aura on your kitchen. However, cutting glass tiles can be challenging, warranting professional installation.
Natural and Elegant: Stone for your Kitchen Backsplash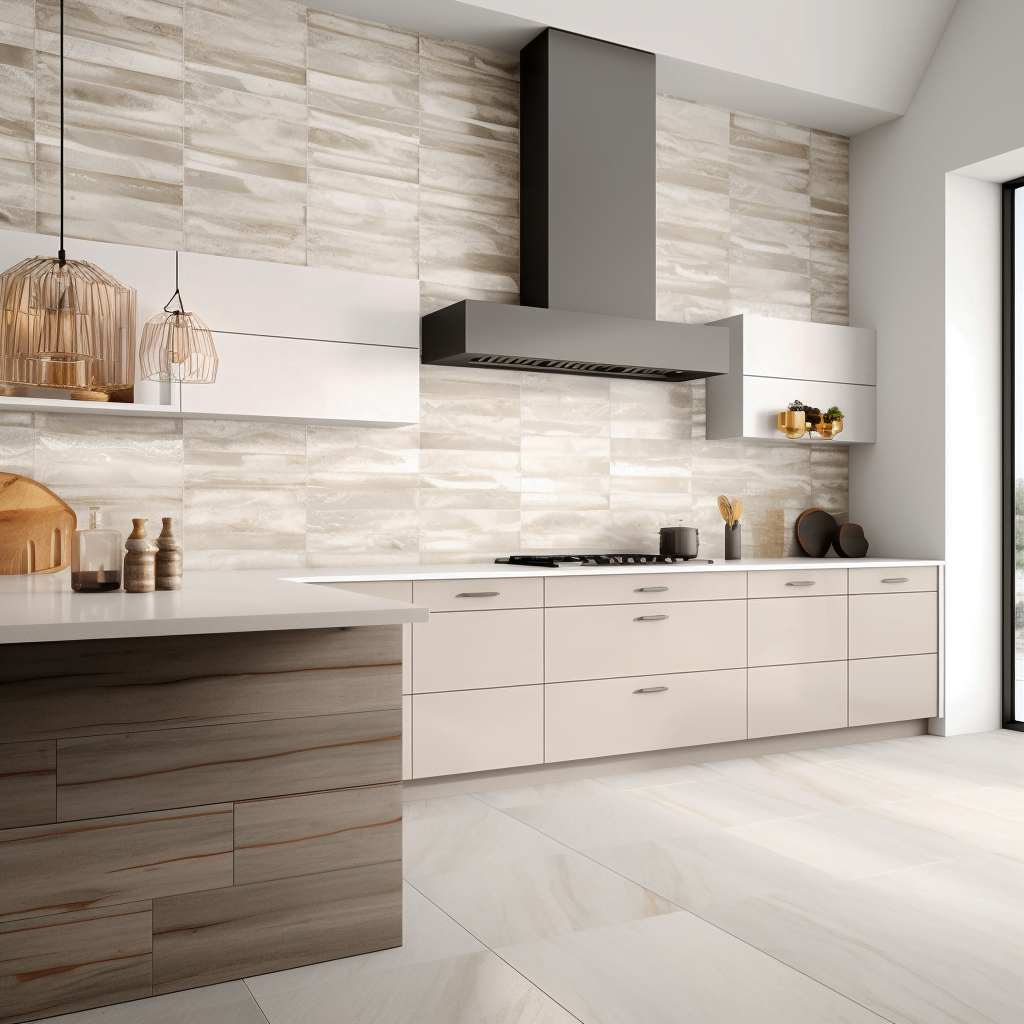 For natural beauty and texture admirers, a stone backsplash can be a magnificent choice. Materials like marble, granite, sandstone, slate, and travertine add luxury and elegance to your kitchen. Each stone comes with unique characteristics, complementing your kitchen decor beautifully. But, as This Old House notes, the stone is porous and requires frequent sealing to prevent staining and water damage.
The Modern Appeal of Metal Backsplash
If your aim is a contemporary and industrial look, metal backsplashes are your trendy ally. Options such as stainless steel, copper, and brass are all the rage. Metal tiles and panels are both durable and resistant to moisture and damage. They bear intricate patterns and have a reflective nature that enhances your kitchen's brightness. But, if your kitchen already boasts stainless steel appliances, temper your usage to avoid a metallic overload.
Rustic and Cozy: Wood Backsplash
For those seeking warmth and rustic charm, wood backsplashes lend a cozy, inviting touch to your kitchen. Shiplap and beadboard are popular styles that offer a farmhouse-inspired charm. The Spruce suggests ensuring the wood is properly sealed to prevent stains and moisture damage. Due to fire hazards, wood backsplashes are not recommended behind the stove.
Now that you're equipped with an understanding of the best materials for a kitchen backsplash, it's time to get the renovation ball rolling. Be it ceramic tiles, glass tiles, stone, metal, or wood, the ideal backsplash can boost your kitchen's appeal and functionality.
Ready to kickstart your kitchen transformation? Contact us today for a free, in-home consultation! Reach us by calling (786)-230-0558 or Contact Us for more information.
Remember, Miami Floors – Baths & Veneers is your reliable partner for all kitchen renovation needs in Miami. Contact us today to see your vision come to life!