Bathroom Remodeling in Miami
At The Miami Floors – Baths & Veneers, we specialize in turning dreams into reality. Our seasoned team of professional contractors is skilled in all aspects of Bathroom Remodeling in Miami, from meticulous Shower Waterproofing to exquisite Tile Installation. With years of industry experience, we pride ourselves on crafting as functional as beautiful bathrooms.
Whether a small bathroom needs a transformative touch or a grand primary suite awaiting a luxurious makeover, we tailor our services to fit your unique vision and needs. What sets us apart? We are committed to quality craft, unparalleled customer service, competitive pricing, and timely completion of projects.
Ready to transform your bathroom into the haven you've always dreamed of? Don't wait another day living with a bathroom that doesn't meet your standards. Contact The Miami Floors – Baths & Veneers today to discuss your project and schedule a free, no-obligation consultation for your bathroom remodeling in Miami.
Transform Your Space with Our Expertise!
Unparalleled Flooring & Tiling Expertise Just a Click Away
Why Choose Us for Your Bathroom Remodeling Project in Miami?
Unmatched Expertise and Experience
With years of hands-on experience, our team at The Miami Floors – Baths & Veneers has mastered the art and science of bathroom remodeling in Miami. We have a proven track record of transforming ordinary spaces into extraordinary bathrooms that exude comfort and luxury.
Quality Craftsmanship Guaranteed
Our team of contractors always delivers the highest standard of work. From precise Tile Installation to robust Shower Waterproofing, we pay meticulous attention to every detail, ensuring your new bathroom will look stunning and stand the test of time.
Customized Solutions for Every Home
We understand that each home is unique, and so are the homeowners. That's why we offer bespoke solutions tailored to your needs and desires, whether a small bathroom remodeling project or a lavish primary suite renovation.
Innovative designs that optimize space

Wide selection of premium materials

Flexible options to suit various budgets
Transparent and Competitive Pricing
We offer transparent and fair pricing with no hidden fees. Trust us for honest and competitive prices on your Miami bathroom remodel.
Exceptional Customer Service
We are not just contractors but your partners in making your dream bathroom come to life. Our team is responsive, respectful, and ready to listen. We value your input and keep you informed every step of the way. Your satisfaction is our ultimate goal.
Licensed and Insured for Your Peace of Mind
Rest easy knowing that your project is in the hands of licensed and insured professionals. We adhere to all local and state regulations, ensuring your bathroom remodeling in Miami is completed safely and to the highest industry standards.
Take the Next Step with Confidence
Ready to elevate your home with a bathroom that reflects your style and enhances your daily routine? Contact Us today to discuss your vision and begin your journey toward the bathroom of your dreams in Miami.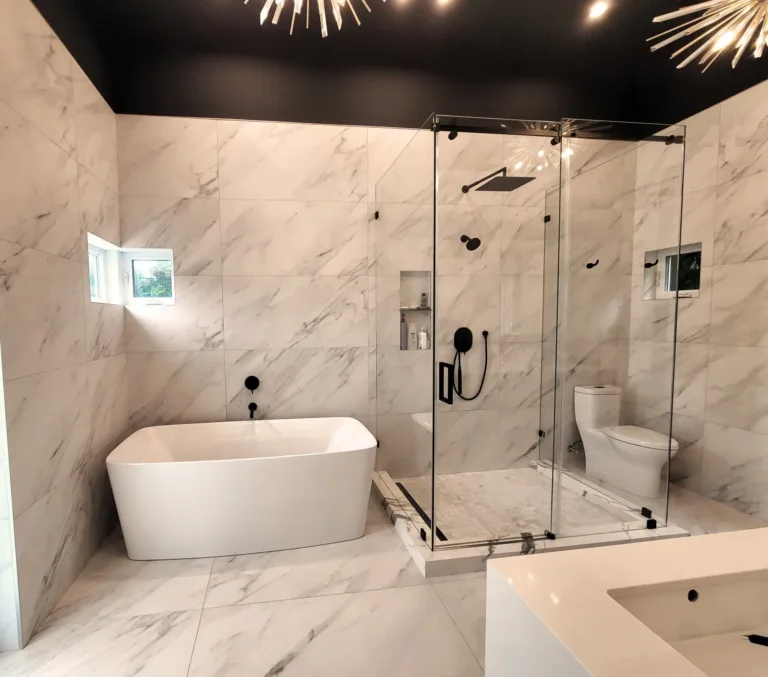 Bathroom Tile Installation
At The Miami Floors – Baths & Veneers, we excel in delivering impeccable Bathroom Tile Installations. Our expert team places each tile perfectly, creating a seamless and beautiful surface that complements your space. We offer a wide selection of premium-quality tiles in various styles and finishes, enabling you to customize the look of your bathroom down to the last detail.
Our meticulous shower waterproofing services are designed to provide your bathroom with unmatched durability and protection. We employ cutting-edge techniques and high-grade materials to create a water-tight seal that prevents leaks and mold growth, ensuring your shower remains a clean and safe environment for years to come.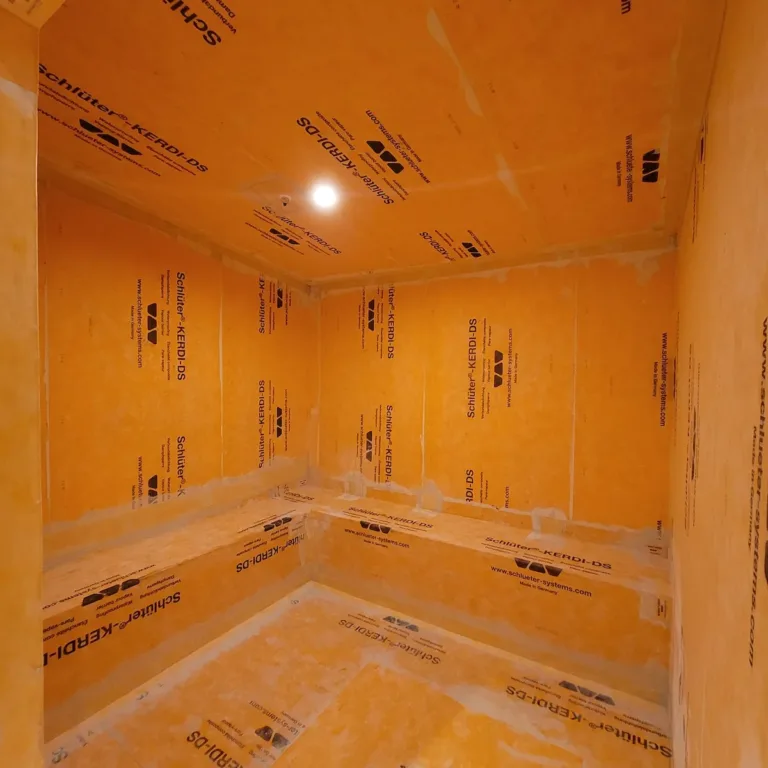 Don't just dream about the perfect space; make it a reality!
We are here to help. 
Small Bathroom Remodeling
Don't let limited space limit your style. Our small bathroom remodeling services focus on maximizing every inch of your room, employing innovative designs and clever storage solutions that make your bathroom feel spacious, organized, and luxuriously comfortable.
Add sophistication to your bathroom with our shower wall installation services. We use ceramic, porcelain, and natural stone to create a functional and visually appealing focal point.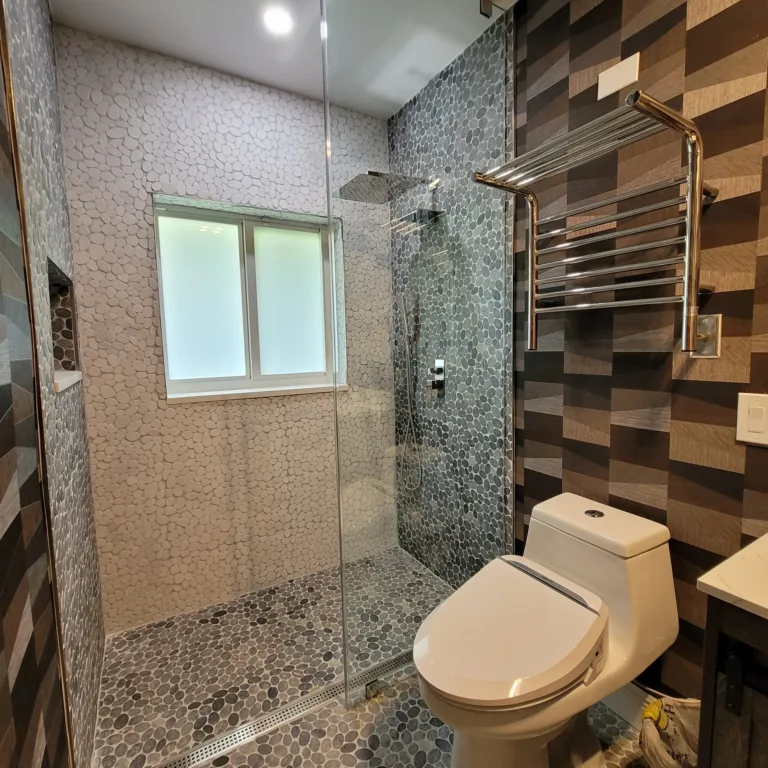 Our Bathroom Remodeling Process
At The Miami Floors – Baths & Veneers, we are committed to providing our clients with an exceptional experience from start to finish. We have streamlined our bathroom remodeling process to ensure smooth transitions at every phase. Here's what you can expect when you choose us for your bathroom remodeling in Miami:
Reach Out to Us
Start your journey to a beautifully renovated bathroom by filling out our contact form with your details. We'll promptly get back to you to schedule a complimentary consultation at your convenience. Request your Free Consultation Visit now.
Free Consultation & Estimate
We'll meet you at your property at a suitable time to discuss your project, inspect the bathroom, and take the necessary measurements. This enables us to grasp your vision and the scope of the bathroom remodeling work required.
Customized Proposal
Based on the consultation, we will generate a detailed, personalized estimate for your project. This document outlines the scope of work, the project timeline, and a transparent breakdown of the costs involved, including potential costs for services such as shower waterproofing and tile installation.
Approval
Once you're happy with the proposal, we schedule the project start date at a time that works best for you.
Project Execution
Our skilled contractors are set to work transforming your space. Whether it's a tiny bathroom remodeling, shower system installation, or tile installation, 
Ready for a Stunning Transformation?
Your dream space is just a click away. Begin with our FREE expert consultation!"
Insights & Inspiration - Our Blog
Discover how bathroom remodeling in Miami can transform your home and enhance your life. From shower waterproofing to tile installation and new shower systems, find out why it's a worthwhile investment.
Read More »