Floor Leveling Services in Miami
Our comprehensive Floor Leveling services are designed to lay the perfect groundwork before your flooring installation project. Whether you require self-leveling concrete for a smooth finish or grappling with a concrete slab that needs professional attention, our team of seasoned contractors is ready to assist.
Our services include applying self-leveling underlayment for your gleaming new wooden floors to installing a leveling concrete floor in your basement. Our team is highly experienced in working with floor-leveling compounds, self-leveling cement, and various other leveling procedures.
Explore why we're the go-to choice for leveling concrete floors in Miami and how we can add immense value to your home renovation project. 
Transform Your Space with Our Expertise!
Unparalleled Flooring & Tiling Expertise Just a Click Away
The Miami Floors – Baths & Veneers rises above the rest regarding floor leveling services in Miami. But why choose us for your floor leveling needs? Here are a few compelling reasons:
Experienced Professionals:

 Our team of experts has years of experience in handling various floor-leveling tasks. Whether applying a self-leveling compound to a wood floor or executing a self-leveling epoxy floor project, we have the expertise to get it done right.

Wide Range of Services:

 We cater to all floor leveling requirements. Be it self-leveling underlayment for wooden floors, leveling cement for concrete floors, or liquid floor leveler for a variety of surfaces, we've got you covered. We can even help with specific needs like garage floor leveling, basement floor leveling, or leveling subfloors.

Quality Products:

 Our services use the best self-leveling concrete and floor-leveling compounds. Our products ensure long-lasting and durable results, making them a valuable investment in your home renovation project.

Customer Satisfaction:

 We understand the importance of your home renovation project, and we're committed to delivering results that meet or exceed your expectations. Your satisfaction is our top priority, and our team will work diligently to ensure your floor is leveled to perfection.

Competitive Pricing:

 We believe in providing quality services at fair prices. Whether you're looking for an estimate of the cost to level concrete or a quote for a complete floor leveling service, you'll find our pricing competitive and transparent.

Timely Service:

 We respect your time and adhere to the agreed-upon timelines. Our team is trained to carry out tasks swiftly and efficiently, ensuring your home renovation project stays on schedule.
Choosing The Miami Floors – Baths & Veneers means selecting a partner who understands your needs, delivers on promises, and turns your visions into reality. Let's create a level foundation for your dream home together!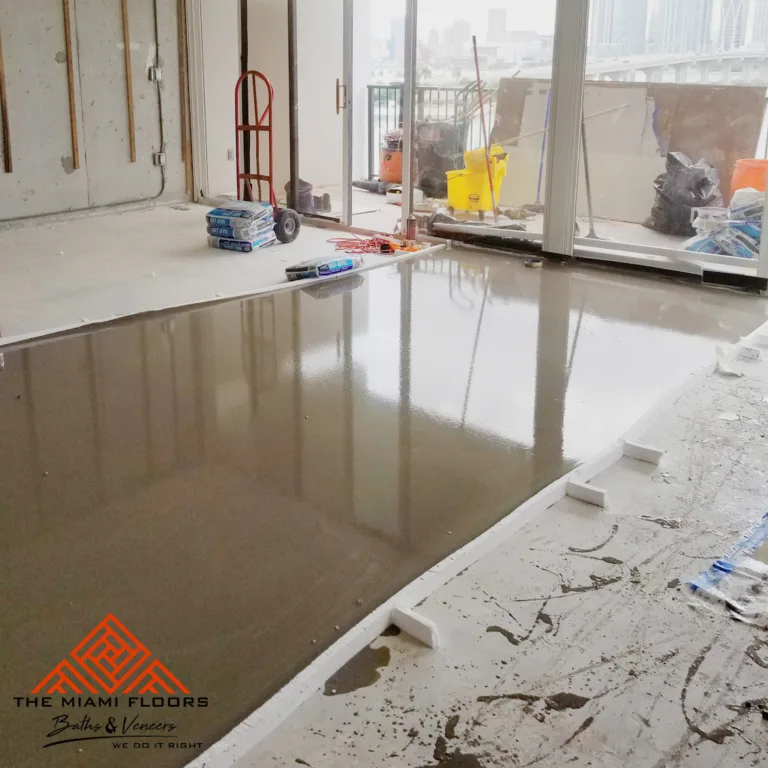 Self Leveling Underlayment
Our team provides expert self-leveling underlayment services to prepare your floors for the final finish. This step is essential for ensuring your floors are flat, smooth, and ready for your flooring installation step.
Ideal for use over concrete, wood, tile, and other surfaces, it's a popular choice for both residential and commercial projects.
Leveling a concrete floor is a specialized task that our team has mastered. We'll correct any inconsistencies in your concrete floor, ensuring it's completely level and ready for the next phase of your renovation.
Don't just dream about the perfect space; make it a reality!
We are here to help. 
Premium Products for Superior Floor Leveling Service
We prioritize quality in every aspect of our work. This extends to our choice of floor leveling compounds – we only use premium, industry-leading products to ensure optimal results in every project.
NXT Level and NXT Level Flow from LATICRETE for their high-quality, durable, and quick-drying properties.
Additionally, we implement Sika Level-325 and Sika Level-425 from the Sika range.
By leveraging these elite floor leveling compounds, we ensure a smooth surface that forms the perfect foundation for your home renovation project. We blend the best self-leveling concrete, cement, and leveling compounds to deliver a service that stands above the rest in Miami.
When to Use Our Expert Floor Leveling Services
The Miami Floors – Baths & Veneers offers comprehensive floor leveling services suitable for various scenarios.
Preparing the Floor for New Installations: 

We guarantee a perfectly smooth and level surface that will set the stage for optimal installation preparation.

Repairing Settled or Cracked Floors:

 Over time, floors can settle or crack due to foundational shifts or moisture damage, resulting in an uneven surface. 

Creating a Durable Finishing Material:

 Self-leveling concrete is a strong, smooth material that can be used as a standalone finish for homes or businesses. It can be customized with polishing, dyeing, or staining.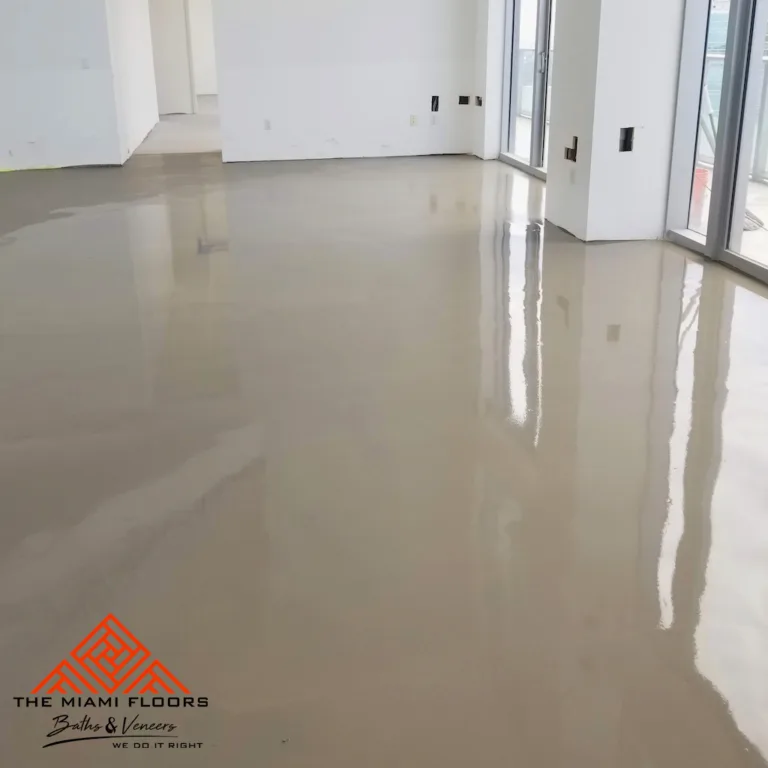 Our Floor Leveling Service Process
At The Miami Floors – Baths & Veneers, we are committed to providing our clients with an exceptional experience from start to finish. We have streamlined our floor leveling service process to ensure smooth transitions at every phase. Here's what you can expect when you choose us:
Reach Out to Us:

 Start your journey to perfectly leveled floors by filling out our contact form with your details. We'll promptly get back to you to schedule a complimentary consultation at your convenience.

Free Consultation & Estimate:

 We'll meet you at your property at a suitable time, during which we'll discuss your project, inspect the area, and take necessary measurements. This enables us to grasp your vision and the scope of the floor-leveling work required.

Customized Proposal:

 We will generate a detailed, personalized estimate for your project based on the consultation. This document outlines the scope of work, the project timeline, and a transparent breakdown of the costs involved, including potential costs to level concrete or apply self-leveling underlayment.

Approval:

 Once you're happy with the proposal, we schedule the project start date at a time that works best for you.

Project Execution:

Our skilled contractors are set to work transforming your space. Whether applying a floor-leveling compound for wood, a concrete slab, or preparing for a self-leveling concrete finished floor, we ensure minimal disruption to your routine and deliver maximum quality.

Final Assessment:

 Upon project completion, we conduct a meticulous assessment to ensure our work aligns with your expectations and our high standards. We guarantee a seamless, level surface, ready for any subsequent renovations or finishes.

Post-Project Follow-up:

Our commitment to you continues even after we pack our tools. We follow up to ensure you're thoroughly satisfied with the outcome and to answer any lingering questions you might have about the floor leveling service provided.
Ready for a Stunning Transformation?
Your dream space is just a click away. Begin with our FREE expert consultation!"
Insights & Inspiration - Our Blog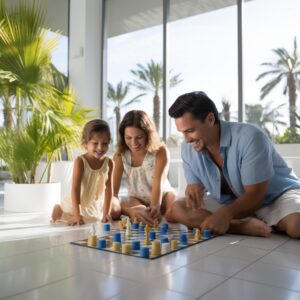 Enhance your Miami property's value with professional ceramic tile installation. The Miami Floors – Baths & Veneers ensures top-notch workmanship and attention to detail, making them the best choice for your tiling project.
Read More »