Tile Installation Services in Miami
We are your trusted local Tile & Flooring Installers experts. With years of experience, our dedicated team of floor installers stands ready to transform your spaces into stunning masterpieces. Whether it's bathroom tile installation, ceramic tile installation, or a full floor installation, we have you covered.
We believe flooring is a crucial aspect of every home renovation project, impacting not just functionality but the overall aesthetic appeal. That's why our flooring installers offer expert skills, careful attention to detail, and robust customer service, setting us apart from other flooring companies near you.
We offer a comprehensive range of flooring services to meet all your renovation needs. From the simplicity of ceramic tile installation to the intricate patterns of bathroom tile installations, our flooring installers have honed their craft to perfection. 
Transform Your Space with Our Expertise!
Unparalleled Flooring & Tiling Expertise Just a Click Away
Bathroom Tile Installation
We specialize in Bathroom Tile Installation. The bathroom is a personal sanctuary, and our installers understand how to combine aesthetics with functionality. Whether you are seeking bathroom tile installers near you for a small upgrade or a major renovation, we have the expertise to deliver stunning results at an affordable bathroom tiles price per sq ft.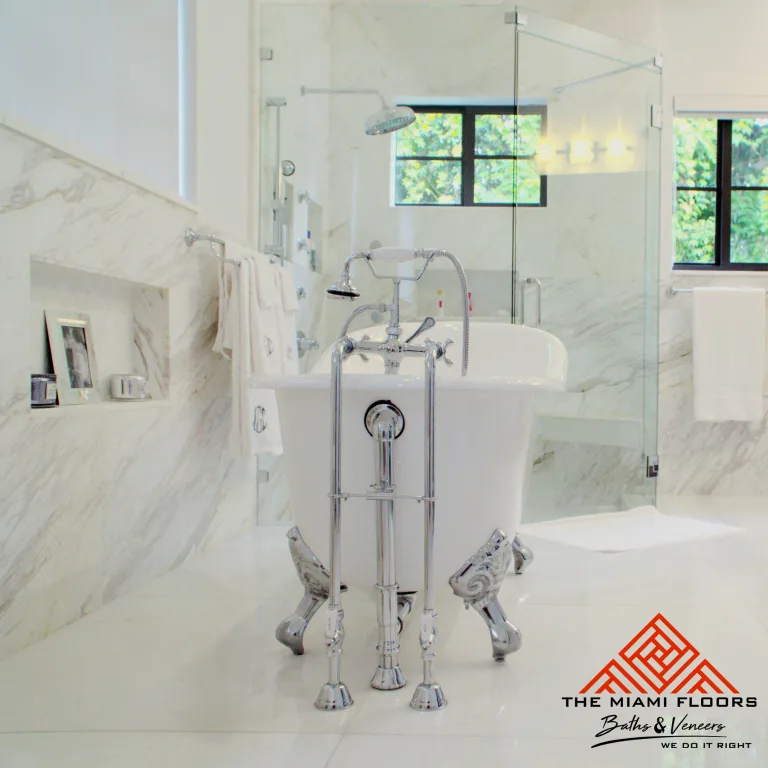 Ceramic Tile Installation
Our Ceramic Tile Installation service is a popular choice among customers. Not only are ceramic tiles durable, but they also offer a wide range of designs to suit your style. Our ceramic tile installers work meticulously to provide a flawless finish, while keeping the ceramic tile installation cost within your budget.
Porcelain Tile Installation
A top choice for style and resilience, Porcelain Tile Installation is a service we excel in at The Miami Floors – Baths & Veneers. Ideal for high-traffic and moisture-prone areas, porcelain tiles offer durability combined with elegance.
Our experienced tile installers near you bring their expertise to your project, understanding the specific demands of porcelain for a flawless finish. We work closely with you on design selection, ensuring a perfect fit for your home's aesthetics.
Don't just dream about the perfect space; make it a reality!
We are here to help. 
If you're searching for the best flooring contractors near you, The Miami Floors – Baths & Veneers is the right choice. But why should you choose us over other flooring companies in Miami? Let's explore.
Expertise – Our skilled team of flooring contractors brings a wealth of knowledge to every project. We're well-versed in a variety of installation techniques, making us your go-to experts for bathroom tile, ceramic, and porcelain installations.
Competitive Pricing – Renovations can be costly, but we believe in providing excellent service at an affordable rate. Our cost-effective pricing, whether it's the cost to install tile floor or bathroom tiles price per sq ft, ensures that your dream renovation stays within budget.
Local Presence – We're not just a flooring company of contractors in Miami; we're your neighbors. Our strong local presence makes us readily available for consultations, installations, and post-installation services. When you think of flooring installation near me, think of The Miami Floors – Baths & Veneers.
Customer Satisfaction – We prioritize your satisfaction above everything else. Our team works closely with you to ensure your vision is realized, from the initial consultation to the final installation.
Our Process: A Journey Tailored to You
We take pride in providing a seamless and personalized experience for every client. Here's how our process works:
Contact Us: Fill out the form with your details, and we will promptly get back to you to arrange a free consultation.

Free Consultation & Estimate: We meet at your property at a convenient time for you. During this meeting, we discuss your project, evaluate the space, and take necessary measurements. This helps us to understand your vision and the scope of the work.

Proposal: We prepare a detailed, personalized estimate for your project and send it to you. This includes the scope of work, timeline, and pricing.

Approval: Once you approve the estimate, we schedule the project start date according to your convenience.

Execution: Our skilled team begins the transformation of your space, ensuring minimal disruption and maximum quality. We keep you updated throughout the project.

Final Assessment: After the completion of the project, we conduct a thorough assessment to ensure the result meets your expectations and our high standards.

Follow-up: Our relationship doesn't end after the project completion. We follow-up to ensure you're completely satisfied with our work and to answer any questions you may have.
Full Installation Services
We're more than just tile installers; we're full-service flooring specialists. Our team is trained to expertly install a wide range of materials beyond just ceramic, porcelain, and tile. Looking for an elegant French pattern, sophisticated stone or marble, or the classic beauty of travertine? Our expert team can handle it all with precision and flair.
Perhaps you're interested in large format tile, GPT (Gauge Porcelain Tile), slim tile, thin tile, or porcelain slabs. These materials provide a modern, clean aesthetic that can elevate the look of any room. Our team of flooring contractors knows how to work with these delicate materials, ensuring flawless results every time.
If you're thinking about the warm and timeless look of wood, whether it be wood tile, wood planks, or wood porcelain tile. These options bring a cozy, natural element into your space, and our team can install them seamlessly, providing that beautiful, cohesive look you desire.
Regardless of the materials you choose for your project, our seasoned flooring installers are committed to delivering exceptional quality and service. With The Miami Floors – Baths & Veneers, your flooring dreams can become a reality.
Ready for a Stunning Transformation?
Your dream space is just a click away. Begin with our FREE expert consultation!"
Insights & Inspiration - Our Blog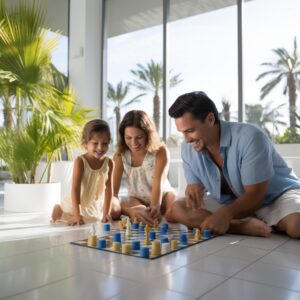 Enhance your Miami property's value with professional ceramic tile installation. The Miami Floors – Baths & Veneers ensures top-notch workmanship and attention to detail, making them the best choice for your tiling project.
Read More »