Shower Waterproofing with Schluter Systems
The Miami Floors – Baths & Veneers offers top-of-the-line flooring and bathroom renovation services, including our expert Shower Waterproofing. We are dedicated to customer satisfaction and turning your renovation dreams into reality. 
Are you renovating your bathroom? Or are you experiencing issues with your existing shower? Waterproofing might be just what you need. We specialize in shower waterproofing solutions at The Miami Floors – Baths & Veneers, employing state-of-the-art Schluter Systems to deliver unmatched waterproofing services. We are dedicated to customer satisfaction and turning your renovation dreams into reality. 
Our team of skilled contractors understands the importance of a well-constructed, waterproof shower for the longevity and aesthetics of your bathroom. Using innovative techniques and high-quality materials like Schluter Ditra and Schluter Kerdi, we offer comprehensive shower waterproofing that stands the test of time.
Transform Your Space with Our Expertise!
Unparalleled Flooring & Tiling Expertise Just a Click Away
Why Shower Waterproofing is Important?
It is absolutely imperative to ensure that shower waterproofing is done correctly when conducting bathroom renovations. Failing to do so could result in serious issues such as paint peeling or even structural damage due to water seepage.
Think of waterproofing as the invisible shield that protects your bathroom from potential water damage. It's an essential step in maintaining the integrity of your bathroom walls and floors. The waterproofing membrane, such as Schluter Kerdi or a Shower Pan Liner, serves as a barrier that prevents water from infiltrating and compromising your building materials.
 Water tends to infiltrate small spaces. Water can penetrate walls and flooring without waterproofing, causing rot, mold, and structural damage. As a result, repairing the damage may be a costly and time-consuming process.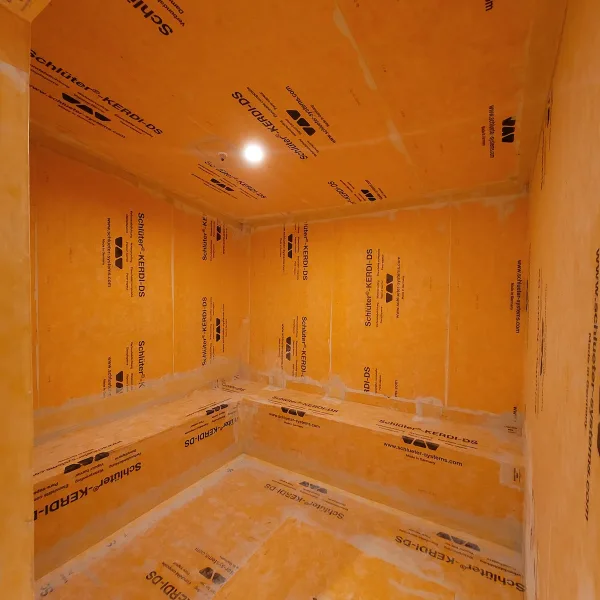 By preventing water damage, you increase the longevity of your bathroom. You'll save on future repair costs, and your bathroom will look fresh and new for longer.
A well-waterproofed bathroom helps prevent mold and mildew, which are unsightly and can cause health problems.
Don't just dream about the perfect space; make it a reality!
We are here to help. 
When you need Shower Waterproofing services, you want to ensure you're choosing a reliable, experienced, and trusted provider. Here's why The Miami Floors – Baths & Veneers should be your first choice:
Expertise in Schluter Systems:

 We specialize in 

Schluter Shower Systems

, renowned for their superior quality and effectiveness in waterproofing. Our team is skilled in 

Ditra Installation

 and using 

Kerdi Shower Systems

, guaranteeing a top-notch, durable waterproofing solution.

Experienced Professionals:

 Our team consists of trained and experienced contractors who bring expertise to every project. Their proficiency in handling various waterproofing scenarios ensures our services meet and exceed your expectations.

Comprehensive Services:

 We offer a wide range of services that cover everything from 

shower pan liners

 to 

tile shower waterproofing

 and 

bathroom floor waterproofing

. Our goal is to provide complete protection against water damage for all areas of your bathroom.

Quality Materials:

 We use only the best materials like 

Schluter waterproofing membranes

, 

Kerdi membranes

, and others, ensuring your bathroom stays waterproof for years.

Customer Satisfaction:

 Your satisfaction is our top priority. We're not just providing a service but building relationships based on trust and reliability. Our numerous positive testimonials reflect our commitment to delivering an exceptional customer experience.

Competitive Pricing:

 Quality doesn't have to break the bank. We offer competitive pricing on all our services, providing cost-effective waterproofing solutions without compromising quality.
The Schluter Waterproofing Advantage
Superior Protection:

 Schluter Systems, including 

Schluter Ditra

 and 

Schluter Kerdi

, provide an excellent barrier against water penetration. These systems prevent water from reaching the substructure of your bathroom, preventing rot and structural damage.

Easy Installation:

 Schluter Systems make installation easy with Kerdi and Ditra membranes that provide complete coverage and superior protection.
Compatibility:

Schluter Systems work seamlessly with various surfaces, including walls and floors, as well as various materials such as ceramic, stone, and porcelain tiles.

Durability:

 Schluter waterproofing membranes are renowned for their durability. They withstand daily wear and tear, providing a long-lasting waterproofing solution for your bathroom.

Innovative Technology:

 Schluter Systems consistently incorporate innovative technology in their products. This commitment to innovation ensures their waterproofing solutions are always ahead of the curve.
Ready for a Stunning Transformation?
Your dream space is just a click away. Begin with our FREE expert consultation!"
Our Process: A Journey Tailored to You
The Miami Floors – Baths & Veneers offers exceptional shower waterproofing services with a customer-first approach. Our meticulous process provides you with confidence and peace of mind. Here's what you can expect when you choose our services:
Reach Out to Us:

 Start your journey to a perfectly waterproofed shower by filling out our contact form with your details. We'll promptly get back to you to schedule a complimentary consultation at your convenience.

Free Consultation & Estimate:

Let's schedule a convenient meeting at your property to review your project, examine the shower area, and evaluate the work needed. This will help us understand your requirements.

Customized Proposal:

 Following our consultation, we will generate a detailed, personalized estimate for your project. This document outlines the scope of work, the project timeline, and a transparent breakdown of the costs involved, including installing 

Schluter Shower Systems

 or other waterproofing solutions.

Approval:

 Once you're satisfied with the proposal, we'll set a project start date that aligns with your schedule.

Project Execution:

 Our experienced contractors will start the work

. We ensure minimal disruption to your daily routine while delivering maximum quality.

Final Assessment:

 Upon project completion, we thoroughly assess to ensure our work meets your expectations and our high standards. We guarantee a watertight shower, ready to withstand everyday use and the test of time.

Post-Project Follow-up:

 Our commitment to you continues even after we pack our tools. We follow up to ensure you're thoroughly satisfied with the outcome and to answer any questions you might have about the shower waterproofing service provided.
Choose The Miami Floors – Baths & Veneers for your shower waterproofing needs and experience a service that places you at the heart of everything we do.
Insights & Inspiration - Our Blog
Discover how bathroom remodeling in Miami can transform your home and enhance your life. From shower waterproofing to tile installation and new shower systems, find out why it's a worthwhile investment.
Read More »