Looking for reliable Debris Removal services in Miami?
The Miami Floors has got you covered. Our team of professional debris removal experts will help you clear out any unwanted or excess materials from your property with ease.
Let's get rid of that debris
Look no further than The Miami Floors
What's best for you?
Pay by Hours: W

e'll charge you based on the time

we spend on the job.
Rent a Trailer: You can rent a trailer for two days, giving you enough time to fill it up with your debris.
Pay by Cart Trip: W

e'll charge you

based on the number of loads taken away. We have multiple cart sizes.
We offer financing options!
Can't pay now? No worries.
Get the Job Done Right for Less – Hire Now!
Hire a laborer starting at just $35/hr. We guarantee that the quality of our work will exceed your expectations. Don't wait any longer – hire a laborer today and get the job done!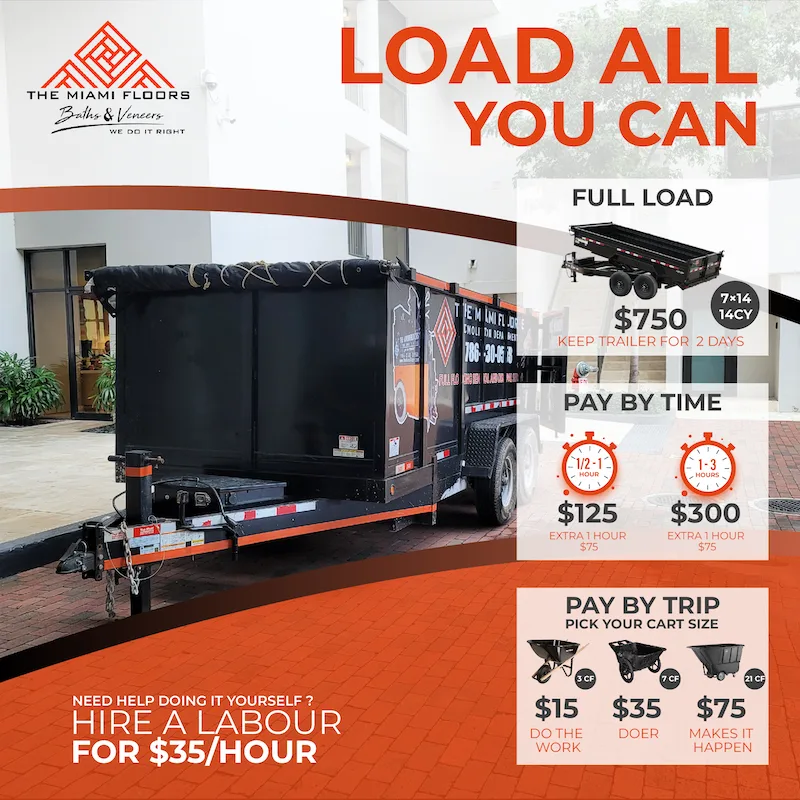 The Miami Floors is Ready
To Help Today
We have more than 1 million square feet of tile installation experience.
Professionalism and Experience
We have more than 20 years of experience in the tiling industry. We improve ourselves every day and count on multiple recognition that certificate our knowledge.
We have hundreds of happy clients because we work to translate our customer's ideas into stylish results.
Project Management
We will assign a project manager and other staff members as required to manage the construction process effectively
Coordination Process
During the development of any project, the coordination of the trades is an integral part of the process. We'll be in continuous communication, so you'll always be updated about the project.